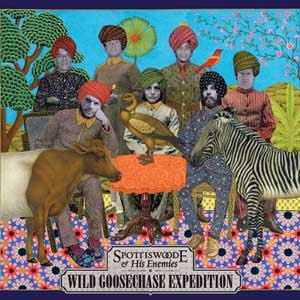 In celebration of St. Patrick's Day, Spottiswoode & His Enemies is offering their new & old fans & foes a two-song-free download "Don't Drive Your Chariot Drunk" sampler.
The first song, "Chariot" is from
WILD GOOSECHASE EXPEDITION, nominated by the Independent Music Awards as the
Best Eclectic Album of 2011
.
CHARIOT
has also been nominated as the Best Adult Contemporary Song of 2011.
DRUNK
is a song from Spottiswoode & His Enemies' BUILDING A ROAD album.
The Independent Music Awards News:
The nominees were just announced this week and winners will be determined by a panel of 77 influential artist and industry judges including Keith Richards, Tom Waits and Kathleen Brennan, Suzanne Vega, Joshua Redman, Tori Amos, Michael Franti, Bettye LaVette, Del McCoury, Ozzy Osbourne, and Shelby Lynne and will be announced in April, 2012.
In addition, music fans from around the world can simply register on the IMA website and cast their votes for the "popular vote".
Here are the links to vote for Spottiswoode & His Enemies:
Springtime for Spottiswoode & His Enemies in NYC:
Highlighting the brassy lyricism of Kevin Cordt on trumpet and Candace DeBartolo on saxophone.
Saturday, April 7th 11pm
(finishing in the wee hours of Easter Sunday morning)
The band will be joined by a gospel backing chorus that includes Alexis England (Stevie Wonder) and the remarkable Martha Redbone (
www.martharedbone.com
).
Celebration of Spring/Folk Night
Pastoral ballads and anthems from the band's next CD (due for release in late 2012) and a riotous celebration of spring!
Spottiswoode & His Enemies are Spottiswoode (
guitar & vocals)

, Tony Lauria

(accordion & piano)

, John Young (bass), Kevin Cordt (

trumpet)

, Riley McMahon

(mandolin, guitar, glockenspiel

), Candace DeBartolo

(saxophone)

& Tim Vaill (drums).
2nd Sets begin after midnight: Free admission
Springtime for Spottiswoode & His Enemies Upstate NY
:
Where: Helsinki Hudson
When: Saturday, March 24th
Cost: $15.00 in advance, $18.00 (day of show)
Where: The Falcon
Cost: No Cover (suggested donation: $10.00)
Where: Main Street Public House
When: Friday, April 20
Above artwork for Wild Goosechase Expedition: Alexander Gorlizki
Photo (Spottiswoode in hat): Jeff Forney
Press & radio contact:
Bernadette Quigley/quigleyMedia/917.414.9765
Press Agent for the 2012 Independent Music Award nominees:
Spottiswoode & His Enemies: "Wild Goosechase Expedition" (Best Eclectic Album & Best Adult Contemporary Song)
Don Rosler: "Rosler's Recording Booth" (Best Concept Album)
Life in a Blender: "Homewrecker Spoon" (Best Eclectic song, "Does the Lady?")